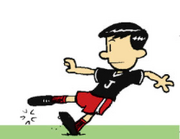 Zack Belfour is a Jefferson student who is the star striker of Jefferson soccer team.
P.S. 38's relocation to Jefferson
When the P.S. 38 students were relocated to Jefferson, Zack taunted Nate Wright and his friends incessantly until the big soccer game against Jefferson.
The game went on without a goal being scored. After the 70-minute match was run, a 10-minute overtime happened but it still did not change anything. Then, during the series of penalty kicks, Mark scored on the Bobcats' last kick, and Nate Wright was left to defend against Zack Belfour's kick.
Nate Wright was able to defend Zack's goal, and the Jefferson team - especially Zack - was dejected.
A few weeks later, when Zack told Nate that he heard that P.S. 38 was about to leave, Nate left Zack with a swelled face.
Community content is available under
CC-BY-SA
unless otherwise noted.