Timber Scouts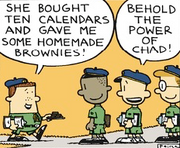 are a boy's organization, very similar to Boy Scouts for younger students. There are several troops throughout the city in which Nate Wright lives.
Requirements for a Timber Scout
Mentioned in Big Nate: On A Roll by Nate, a Timber Scout must be:
Friendly
Helpful
Hard-working
Courageous
Responsible
Respectful
Troop 3
Members
Trivia
The Timber Scout's have a "Driftwood Derby" very much like how Cub Scouts hold a Pinewood Derby.
According to Nate, there are badges for just about anything.
When he is trying to get his knot tying badge he made knot the size of a basket ball he was supposed to do a sheep-shank knot.
Trivia
Teddy's mother makes cookies for the Timber Scouts, which Nate thinks are delicious.
Lincoln Peirce took the name "Timber Scouts" from Disney's Ducktales.
Community content is available under
CC-BY-SA
unless otherwise noted.