Novels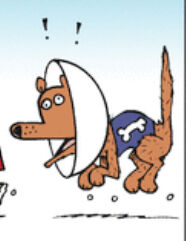 Spitsy is a male dog owned by Mr. Eustis.
Biography
While Nate was preparing to sell wall hangings, Spitsy pounces on him and begins licking him without mercy. Finally, Mr. Eustis intervenes and orders Spitsy to disengage. Mr. Eustis agrees to buy a wall hanging, which Nate speculated could be the result of Spitsy's assault. A few days later, Mr. Eustis learned that Nate needs to raise money, and hires him to walk Spitsy for him.
Unfortunately, Spitsy located Pickles and rushes for her, causing a frantic Nate to receive a black eye when he crashed into a tree. Meanwhile, the leash came loose and Spitsy and Pickles hung out for about an hour until Nate finds the two of them and angrily drags Spitsy home. When Mr. Eustis finds out about this, he pays Nate to paint his fence...
Trivia
He likes to play "Go Fish".
He gets bullied by squirrels, possibly why he is scared by a squirrel, he is even scared of a toy squirrel put by Nate to help him be more "dog".
He has a crush on Pickles, Francis's cat.