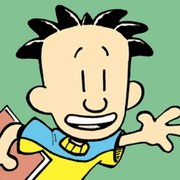 Nicknames
Nate has had a lot of nicknames for his classmates and students because he's the nickname czar of P.S. 38. Here is a list of all of them.
Nickname Czar
Mower Whisperer
Mr. Zero
Doof
Shutout
Suck-up
Captain Clueless
Silent But Deadly
Pushy McBossAround
Fart Bucket
Piece of Dry Toast
Bogey Bunny
Ingrown Toenail
Cuddle Slug
Glass of Warm Prune Juice
Sweat Monkey
Zitwagon
Sad Little Clown
Barf-o-Matic
Sand Crab
Weasel Boy
Nate Wanna-Be
Pea Brain
Wussykins
Soon-to-be former boyfriend
Mister Perfect
Peachy McWonderful
Animal Planet
Bacon
Beast
Big Bang
Big Mama
Black Widow
Boredom.com
Boxcars
Bride Of Sasquatch
Butter Butt
Cankles
Chins-R-US
Clarabell
Crab Cakes
Cruella
Dark Side of the Moon
Death Breath
Dragon Breath
Dullapalooza
Dump Truck
Egg Salad
El Guapo
Extra Cheese
Extra Crispy
Fat Albert
Fat City
Free Willy
Fried Dough
Gas House
Gas Station
God-awful
Godzilla
Heart attack
Heidi
Heidi Ho-Ho
Helmet Head/Hair
Hey Moe
I Can't Believe She's Not Butter
Jabba the Hutt
Jabba the Gut
Jaws
Lady Gargoyle
Lassie
Lord Voldemort
Lucifer
Madame Bovine
Madame X
Madonuts
My Little Phony
Oh, the humanity
One-Ton Soup
Ozone
Pardon My Nachos
Pass the Gravy
Pat
Plan B
Pudge
Queen Kong
Shamu
She-Who-Must-Not-Be-Named
Sticky buns
The Eighth Continent
There's No Place Like Homework
Thigh Master
Titanic
Venus de Silo
Wide Load
Wrecking Ball
Livin' La Vida Donuts
Fat Elvis
Lotta
McNuggets
Al G (Amish-Looking Guy)
Big Fella
Shifting Plates
G-Rex
Boredom = mc2
Shemp
Big Kahuna
Big Guy
Big Fella
Community content is available under
CC-BY-SA
unless otherwise noted.