Nate Wright has had five ex-girlfriends currently.
Girlfriends
Angie
was
 Nate's first girlfriend. She appears in
Big Nate: Dibs On This Chair
. Also, was in
The
Complete
Big
Nate
6-8.
When Nate's grades were so low, he had to go to summer school. There, he meets Angie and they become a couple. These comics were made in about 1997 to early 1998. However, Angie breaks up with Nate and ten seconds later, she's going out with Dan Labreque. She's mentioned later when Nate takes Jenny Jenkins to the dance. Kelly is Nate's second girlfriend. She appears in The Complete Big Nate 11. She looks different from Angie. They first meet when Nate goes to soccer camp. They meet and they soon become a couple. This is also when Coach John is introduced. Soon, Jenny is available. Nate breaks up with Kelly at the back of a detention slip. Kelly made a huge "scene" when she found Nate broke up with her with a detention slip.
Trudy is Nate's third girlfriend. She appears in Big Nate: Hug It Out! and Big Nate: Blow The Roof Off The strip was released in 2015.
One day at the fair, Nate wants to ride the Flamethrower. He meets this cute girl, who disappeared. Then she was known as "The mystery girl." It turns out, she goes to
P.S. 38
, and she's in seventh grade! They become a couple, But Nate breaks up with her because she is taking up too much of his time.

Trudy might be seen in
Big Nate In the Zone
on page 153 in the first picture. The girl on the right MIGHT be Trudy.

Ruby Dinsmore is Nate's Fourth Girlfriend. Her one and only appearance were in Big Nate: Blasts Off.

Both Nate and
Randy Betancourt
had liked Ruby at that time. There was a big war. Whilst it is not known who Ruby likes better, it is probably Nate. It is definitely either Randy or Nate. However, she never appears in the comics.
Daisy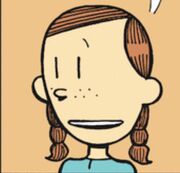 is Nate's Fifth Girlfriend. Nate and Daisy met after the both Daisy noticed Nate's valentine card. However, the both of them had no feelings for each other and broke up shortly after.
Nate's Crushes
Dawn Michelle, a.k.a. unidentified leader of Jefferson Posse, appeared in Big Nate: Goes For Broke, which is her only appearance. She decided to play a little prank on Nate when he was at Jefferson by writing P.S. 38 STINKS! on his cast. Nate has also has crushed on Jenny Jenkins and Lila until Nate found out that she had a boyfriend named Nate also.
Community content is available under
CC-BY-SA
unless otherwise noted.