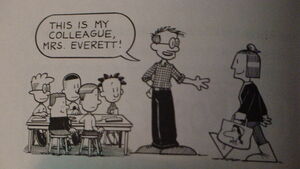 Mrs. Everett is the art teacher of Jefferson Middle School as well as the faculty advisor for their Cartooning and Illustration Club. She is also a colleague of Mr. Rosa, the art teacher of P.S. 38.
Biography
When the sixth-grade class of P.S. 38, a nearby middle school, had to temporarily stay at Jefferson Middle School, Mrs. Everett was introduced to P.S. 38's cartooning club by Mr. Rosa, their faculty advisor. Mrs. Everett explained about the Cartooning and Illustration Club (C.I.C.), Jefferson Middle School's cartooning club, and that there are around 30 members. She presented the cartooning club with examples of the club's drawings, and they were shocked at how amazing they were.
In the Ultimate Snowdown, a snow-sculpture competition between the two schools' sixth grade class, she was a judge. She announced the winners of the competition, P.S. 38.
Personality
Mrs. Everett appears to be a kind, cheerful, and enthusiastic person.
Appearance
She wears a black jacket over a shirt, long pants, and large shoes. However, she also wore a scarf and polka-dotted pants during the Ultimate Snowdown. She also owns a handbag with an unidentified fictional character on it.
Trivia
Mrs. Everett is smiling in all of her appearances.
She loves creativity.
Behind the Scenes
The colors of Mrs. Everett's clothes are unknown, as she has only appeared in a novel, which are always black-and-white
Appearances
Community content is available under
CC-BY-SA
unless otherwise noted.