Mary Ellen Popowski is a student at P.S. 38. At some point, Teddy Ortiz and Nate Wright had a squid In science, and Teddy pretended it was a giant booger. The two boys laughed so hard that they dropped the squid on the floor. Then Mary Ellen Popowski came and accidentally stepped on it. Just then, Mr. Galvin came and started shrieking at the boys. Mr. Galvin made the boys apologize to her, and gave them two weeks of detention. They apologized, but she kept whining that her shoes smelled like dead squid. Nate said, "Maybe it was an improvement on how they smelled before." And then they had to apologize again. She also mentioned that she played flight of the bumblebee. Mary typically appears in the Big Nate novels, she occasionally makes appearances in the comics as a "snot-nosed" friend of Gina. She plays the flute in band.
Personality and Traits
Mary spots a dark long sleeved shirt and likes to play the flute. She has freckles and is scared of even touching boys because she hates "boy-cooties".
Big Nate In A Class By Himself
She steps on squid that Teddy and Nate were dissecting.
Big Nate Goes For Broke
It is mentioned that Mary has absolutely no sense of humor.
Big Nate Flips Out
Mary also joined the Trivia Slam being part of Gina's Geniuses.
Big Nate In The Zone
During the Fitness Zone, she made the team lose by not taking the baton from Francis during the relay race because she was scared of "boy cooties".
Big Nate Lives It Up
Mary was a part of Gina's Geniuses again in the P.S. 38 Scavenger Hunt.
Big Nate Blasts Off
During the bus ride to the Science Museum, Nate states that Mary with her "sing-alongs", she made the bus ride seem a lot longer than it should've been and in his comics, depicted Mary on the bus loudly singing one verse over and over, trying to get the other kids to join in, and screams "COME ON, PEOPLE! IT'S A SING-ALONG!" at them because none of them are interested.
Behind the Scenes
Mary is a minor character in the series, as she is featured in many books.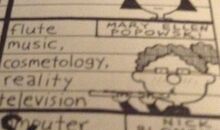 Community content is available under
CC-BY-SA
unless otherwise noted.