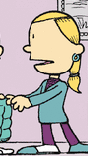 Lindsay Phillips (b. 1978) is a seventh grader attending P.S. 38. According to Trudy, she is extremely popular, which is saying something because everyone has a crush on Trudy according to an unnamed guest at one of Lindsay's parties.
Biography
Early Life
She attended an unknown elementary school that was not in the district before moving to P.S. 38. It is likely she also attended P.S. 38 in sixth grade though this is not confirmed.
Junior High
It is unknown if Lindsay attended P.S. 38 in sixth grade, or if she attended a different junior high before transferring into the aforementioned school. In seventh grade, Lindsay achieved much popularity and was highly considered "the queen bee of seventh grade." It is likely that she met Trudy here. Dee Dee Holloway said Lindsay is like the seventh grade version of her (Dee dee).
Main article: Party of Lindsay Phillips
At some point in the year, Lindsay Phillips threw a party and invited many students, possibly by sending invitations like sixth-grader Dee Dee Holloway, who was popular in her own right. Trudy, a popular seventh grade student, was invited to the party. Trudy asked Lindsay if she could bring Nate Wright along as well, and Lindsay approved. At first, Nate enjoyed the idea. Coincidentally, Dee Dee was throwing a party the same night. While preparing for the celebration, Lindsay also greeted several guests at the doorway, including Nate and Trudy.
She mistook Nate's name to be Matt at first, which infuriated him. With that, the party began. Eventually, Lindsay invited female students to go upstairs and paint nails with her. While they were painting, Trudy left Nate to join them. When Lindsay came downstairs, she, like many others, was informed that Nate had wandered over to the snack table and eaten all of the Cheez Doodles, causing humiliation for himself. Soon after that, the party ended.
Relationships
Trudy
Lindsay met Trudy at an unknown time and means. It is implied that they are good friends.
Nate Wright
Lindsay Phillips first heard of Nate when Trudy asked if she could attend. It is unknown what Lindsay actually thought of him after the party in 2016.
Behind the Scenes
At first, Lindsay thought Nate's name was really Matt.
Community content is available under
CC-BY-SA
unless otherwise noted.