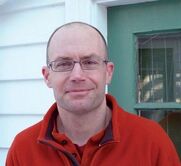 Lincoln Peirce is an American cartoonist, who is mainly known for illustrating and creating Big Nate and Max and the Midknights  .Lincoln Peirce was born on October 23, 1963 in Ames,Iowa, Some recent work Lincoln Peirce has done includes talkinover the country about cartoons and working on the comic strips, Big Nate. Lincoln currently lives in Portland, Maine, with his wife and 2 children.
Career
Big Nate Career
Peirce first started development on Big Nate in 1991, and it started as his best known comic. Big Nate is mainly about Nate Wright's life at P.S. 38, his adventures with his pals Francis Pope and Teddy Ortiz, and his troubles with his rivals such as Mrs. Godfrey, Gina Hemphill-Toms, Randy Betancourt, and several others. When drawing, he starts with a rough sketch using a fine point pen. When making the finished artwork, he uses a smooth paper called bristol board and sketches the entire drawing with a non-photo blue pencil. He uses a pen called pigment liners, and after inking everything once, he goes over everything again with a thinner pen to smooth it out.[1] The comic has eventually evolved into novels and comic books that have been a success. Peirce has also created an island called Big Nate Island on the popular online game, Poptropica.
Poptropica Career
Poptropica was first officially released in September 2007 to the public. Poptropica is published by Jeff Kinney and the Family Education Network. Poptropica is "a virtual world where kids can explore and play in safety", as said in the FAQ's on Poptropica. In Poptropica, you do engaging quests, fun stories, and entertaining games.
Trivia
Peirce explained that his last name is pronounced "purse" and not "pierce".
Jeff Kinney explained that he was inspired by the Big Nate comic strips to create Diary of a Wimpy Kid.
Peirce first began cartooning at Colby College in Maine. He also studied at Skowhegan School of Painting and Sculpture.
For 3 years, Lincoln Peirce taught baseball in New York at a High School. He also plays hockey with "an old mans league". Peirce describes it as "his best sport as a child".
According to the Big Nate website, he is not related anyhow to the president Franklin Pierce. One time, as he said, he was mistakenly called by that name by an individual.
He once threatened to remove the comments section on Big Nate Gocomics due to the poll war.It was a spam event where people where making polls unrelated to the comic strip in the comments and spamming in the replies. Many people were banned from Gocomics during this revent. It lasted from June-August of 2017.
References
Community content is available under
CC-BY-SA
unless otherwise noted.