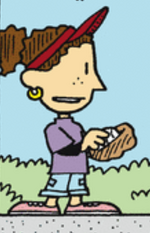 Lila was the pitcher for Nate Wright's baseball team once.
History
Lila was first known to Nate in preschool, where she beat up Nate every day during story time. They then went seperate ways, Nate to P.S. 38 and Lila to St. Pats. On May 18, 2013, Nate answers the door to the at the time unknown as the replacement pitcher to Chester Budrick, who left due to problems with his parents. Two days later, she revealed her name; Nate recognized her when she mentioned preschool when she beat up Nate every day.
Personality
Lila may be a very competitive girl, as she always beat up Nate in Pre-K story time. So far, she has been shown as friendly and likable towards Nate, and it has been hinted she will be Nate's future girlfriend. Of course, this hint was obviously by Nate Wright himself. Unfortunately, she already had a boyfriend.
Romance Relationships
Lila goes out with another boy who coincidentally, is also called Nate.
Behind the Scenes
Lila first appeared in the May 18th, 2013 strip. She was first identified two days later.
Community content is available under
CC-BY-SA
unless otherwise noted.