Character
Coach Calhoun is one of the two gym and health teachers at P.S. 38. Whenever Coach Calhoun is not teaching, Coach John takes over, much to the kids' dismay. He is more commonly called Coach and is a Coach for P.S. 38's basketball and soccer teams. He also is a little league baseball Coach. He is often good with Nate, but has either benched or sent him to detention for various reasons. Coach John may be his friend, but they have many differences and Coach Calhoun usually gives kids a chance before punishing them.
Biography
Calhoun coaches the P.S 38 sports teams (soccer, baseball, basketball) which usually lose, but normally it is Nate's fault as he cannot concentrate well in games.
He was hired by P.S. 38 after Coach Clawson retired. His first day at P.S. 38 was also the first day of the school year (September 7, 1993). He was first only the soccer coach but then he started teaching Physical Education.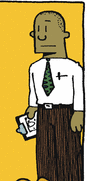 He also teaches health, and his lecture on puberty was called "Puberty: The Magical Mystical Tour"
Regarding Jefferson, he says that they are all winners, and he appears in a comic saying it is "okay for them to lose".
Calhoun reminds Nate and Artur Pashkov about Field Day. During the event, he made Gina the captain, and he also reprimanded Nate for insulting her. However, before that, Nate was the captain of his Fleeceball team in which Gina was in. And Calhoun kept telling Nate to respect Gina though the roles were switched.
Trivia
He is rated as 'mad monthly' in Nate's 'P.S. 38 ANGERGRAPH!'.
He is enemies with the Jefferson soccer coach.
He hates Brad's dad.
He is a Detroit Tigers fan.
He doesn't know anything about yoga.
In September 2010, Calhoun had a baby, and was on absence for several days.
He almost always wears a t-shirt that says "COACH" When he doesn't he wears a soccer jersey or a suit.
His zodiac sign is a Taurus.
Community content is available under
CC-BY-SA
unless otherwise noted.