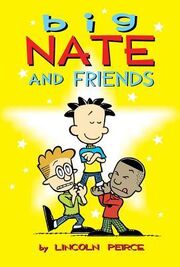 Big Nate and Friends is a 222-page comic strip collection that holds some of the best comic strips from the beginning of Lincoln Pierce's comics to his current work. It was published by Andrews McMeel Publishing. It contains comic strips from 1 January, 1997 to 28 October, 2007. It is the 5th book in the comic strip collection book series, and is preceded by Big Nate: Here Goes Nothing and is followed by Big Nate: I Can't Take It!!
Official Summary
Sixth-grader Nate Wright is on top of the world... with a little help from his friends! His best buddies, Francis and Teddy, stick with Nate thick and thin - usually thin. They've seen it all: Nate's disastrous love life, his chess-tournament trash talking, even his attempt to be a "bad boy." Along the way, Nate and his pals are joined by Arthur, the gentle exchange student who's popular with ALMOST everyone but Nate. And don't forget Gina, the teacher's pet who gets an "A" for annoying. They're all here in this new collection, featuring highlights from Nate's most hilarious adventures.
Community content is available under
CC-BY-SA
unless otherwise noted.