Warning!
Some content in this article is derived from information featured in Big Nate novels, and, as such, spoilers will be present.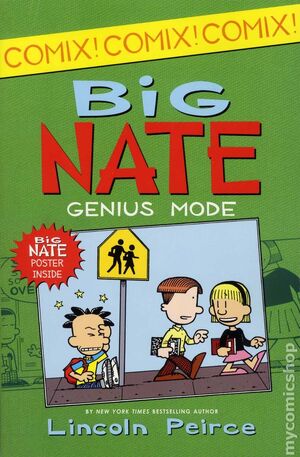 Big Nate: Genius Mode is a comic strip collection released on May 7, 2013. It is the 10th comic strip collection book and is preceded by Big Nate: All Work and No Play and is followed by Big Nate: Game On!
Trivia
Nate claims he has a syndrome.
Nate finds out Spitsy is half French Poodle.
Nate sends a Valentine's cookie to Gina instead of Tina, which starts everyone thinking that Nate likes Gina.
Marty Wright takes power yoga classes, and Nate uses this to help Ellen practice her laugh
Jenny kissed Nate when they were younger, but Nate soon found out that Jenny kissed all the boys in the class.
Teddy, Francis, and Nate build a treehouse, but they have never used it in any other comics.
Nate decided that he won't do any schoolwork until high school, because he realized no one gets into college based on what they did in middle school.
Artur, Francis, and Teddy all quit Enslave the Mollusk, leading to the collapse of the band.
Nate learned hypnosis.
Chad outsmarted Nate by pulling a wedgie on him on prank day.
Nate is required to read one book a week due to his lousy report card, and he and his dad Martin Wright get together every week to discuss the books.
Community content is available under
CC-BY-SA
unless otherwise noted.