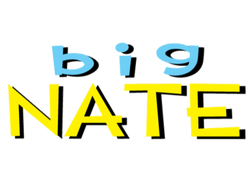 Big Nate is an American comic strip written and illustrated by Lincoln Peirce and distributed by NEA since January 7, 1991. The strip revolves around eleven-year-old Nate Wright, a radical rebel in the sixth grade, his school friends, teachers, and his enemies. It has eight spin-off novels, which were published from 2010 to 2016, as well as an animated adaption by Nickelodeon set to release on Nickelodeon on September 2021.
Synopsis
Big Nate follows the adventures and misadventures of Nate Wright, a rebellious yet spirited male sixth-grader, along with his fellow classmates and teachers. He is portrayed as a boy with very little interest in studies or conforming to standards, which has led him into several conflicts with his social studies teacher Mrs. Godfrey, whom he considers to be his nemesis. Strips also focus on Nate's home life and friendships with his best friends Francis and Teddy. Answering questions from fans in the Washington Post, Peirce revealed the following about the creation of the strip:
"Big Nate started out as more of a 'domestic humor' strip than it is now. It was my intention to feature a lot of stories about Nate's single dad, and all the comic possibilities inherent in that. But before too long, I realized that the part of the strip that I enjoyed most was the school humor. I'd been a teacher myself, and schools can be very funny places."
―Lincoln Peirce
Awards and nominations
History
Big Nate has been running from January 7, 1991, to present.
Trivia
The series takes place in a fictional town called Rackleff which is located in Maine, despite there being a street called Rackleff which is in Maine and a senior community called that in Canby, Oregon.
When it comes to the title of each Big Nate book, every comic collection has the word "big" lowercase while actual novels have "BIG" uppercase.
Almost all Big Nate books have Jeff Kinney's quote, "Big Nate is funny, big time.", on the top of the front cover.
"Big Nate" is named after the author's older brother, Johnathan. He realized the name had the name "Nathan" within it, and soon after, he started calling him "Big Nate".
The comic strip went on a hiatus from December 31, 2017, to July 15, 2018.
References