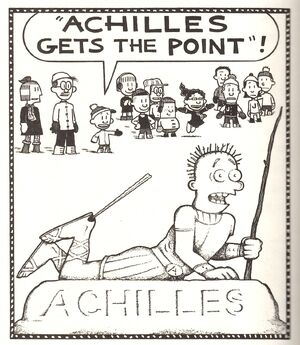 Achilles Gets the Point is a snow sculpture built by Nate Wright and his teammates during the Ultimate Snowdown.
Features
The arrow that punctured Achilles' heel was really an icicle that Nate and Teddy pulled off of Teddy's garage roof.
The "blood" around the icicle was red nail polish that Dee Dee Holloway applied to "pump up the drama", so to speak.
Trivia
In the Ultimate Snowdown, Nate's opponents, Nolan and his classmates from Jefferson Middle School, tried to take a bad approach in making their snow sculpture by patting snow around a real cavalier's suit of armor. Despite Nolan's team not technically cheating, their tactic wasn't very imaginative; and imagination was the approach that the judges, Mrs. Everett and Mr. Rosa were looking for.
Nate's team defeated Jefferson Middle School because their snow sculpture was very creative and Jefferson's had no imagination
It was the first time that P.S. 38 won against Jefferson in seven years.
The name, "Achilles Gets the Point", implies that the arrow was a point and Achilles had it, and it also implies that Achilles got the "point" that anyone could be beaten.
Behind the scenes
Appearances
Community content is available under
CC-BY-SA
unless otherwise noted.