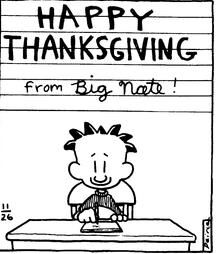 A Thanksgiving Prayer was a poem written by Nate Wright. He wrote it on Thanksgiving, shortly after he got his surgical cast removed. After the poem, on the fourth panel, Lincoln Peirce wished a happy thanksgiving to everyone from Big Nate himself.
I thank you, Lord,
for all the things
that make my life so descent.
I thank you for
the blessings in
my past (and those more recent).
I thank you for
my dear old Dad.
(I hope that you will note that.)
I even thank you
for my sis.
(I can't believe I wrote that.)
But most of all
I'm thankful that
I got my stupid cast off.
And now that I
can draw again,
my art career will blast off!
Community content is available under
CC-BY-SA
unless otherwise noted.